The EU Delegation to Ukraine has launched an initiative "European Village – Our Continent. Our Future" in Kiev, Ukraine in parallel to the EURO 2012 Football Championship during the period 2nd of June – 1st of July. The initiative aims at showing cooperation between the EU and Ukraine and the CBC programmes involving Ukraine are invited to showcase project and initiatives involving Ukrainian regions.
In order to ensure the visibility of the Joint Operational Programme "Black Sea Basin 2007-2013" and projects within the programme during this initiative, the Joint Managing Authority (JMA) and the Joint Technical Secretariat (JTS) organised the participation of the projects and the programme at this initiative.
The initiative comprises 11 themes and under each theme specific events take place at different times spread throughout June, namely thematical conferences, round table meetings, visibility at the temporary and permanent exhibition tents.
The Black Sea Basin Programme is being represented with 5 projects under 4 themes. These themes are: Save our planet, Destination Ukraine-Sustainable Economic Development, Study in Europe and Cultural Heritage. Participants representing the Ukrainian partners of the two of the projects have already participated in the event activities under the "Save our planet" theme on 5th and 6th of June 2012. Both participants made presentations about their projects that are funded by the Black Sea Basin Programme during the conferences (one on Green Tourism, Protected areas and Biodiversity and the other on Fisheries in the Black Sea). Participants were supported by the programme representative in preparation for and also during their presentations.
The programme level participation has also been performed during 5th of June 2012, with a stand dedicated to the programme, at the temporary exhibition tent. The programme publications and visibility materials were presented and information on the programme was provided to the visitors at the stand.
More information on the Initiative and events schedule can be found on the website of the Initiative: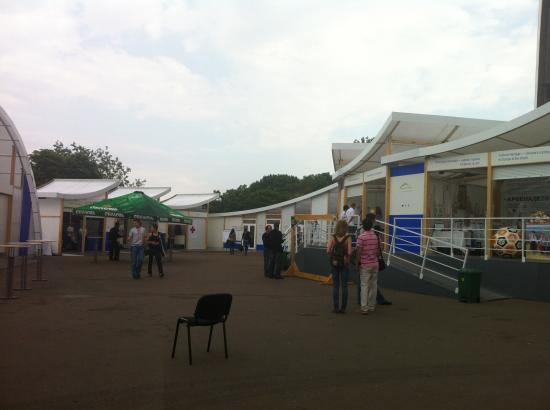 Venue of activities for the "Euro Village Initiative"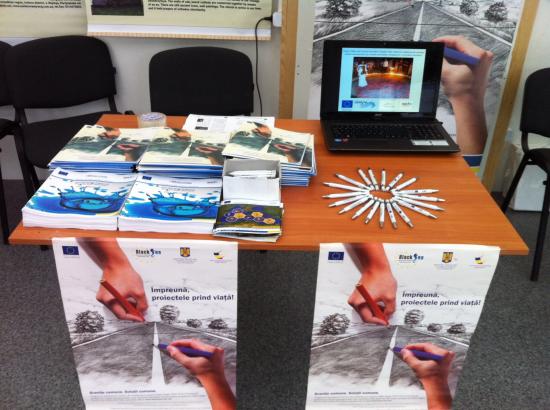 The Programme Stand with visibility materials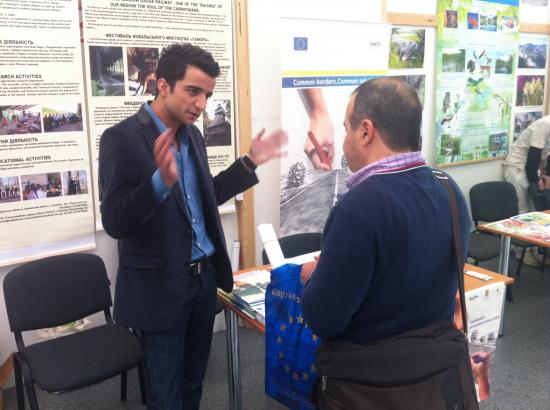 At the Programme stand, providing information on the Programme to an NGO representative coming from eligible area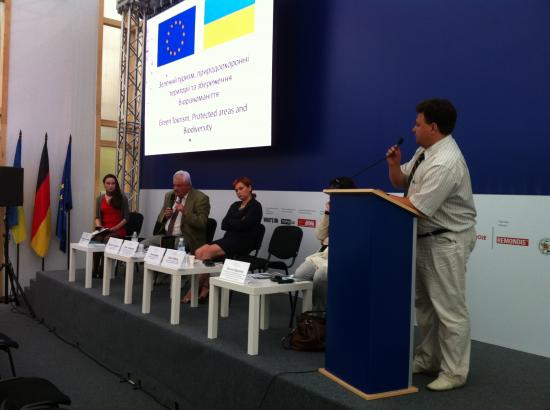 Representative of Ukrainian partner, making presentation of the project Inter Trails (and its contribution into the Cross Border Cooperation efforts in the region, involving Ukraine)