Our projects 2014-2020
Joint Operational Programme Black Sea Basin 2014-2020

Joint Operational Programme Black Sea Basin 2014-2020
---
Discover our projects!
---
---
The Portable Document Format (PDF) of the Brochure with the projects from the 1st Call for Proposals is available here.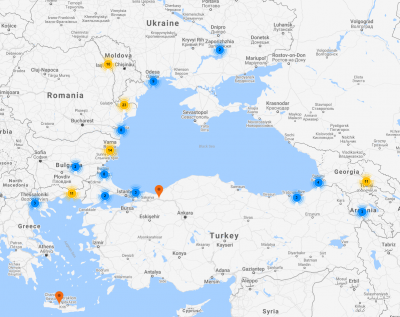 Our projects in Keep database
Keep serves all professional audiences in need of aggregated data regarding projects and beneficiaries of European Union cross-border, transnational and interregional cooperation programmes among the member States, and between member States and neighbouring countries.
---
Specific objective 1: Promote business and entrepreneurship within the Black Sea basin

Priority 1.1: Jointly promote business and entrepreneurship in the tourism and cultural sectors
---
Priority 1.2: Increase cross-border trade opportunities and modernisation in the agricultural and connected sectors
---

Specific objective 2: Promote coordination of environmental protection and joint reduction of marine litter in the Black Sea basin

Priority 2.1: Improve joint environmental monitoring
---
Priority 2.2: Promote common awareness-raising and joint actions to reduce river and marine litter